Team registration is over
22
Jun
2014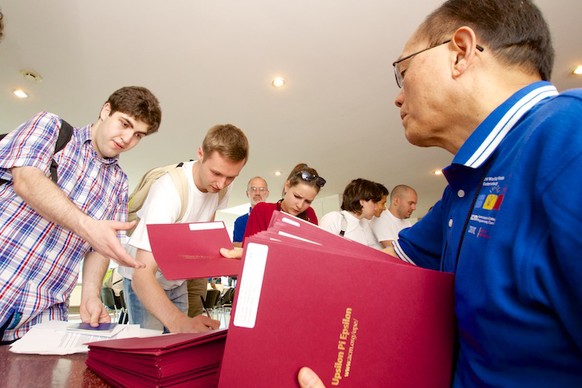 Today the most part of teams have gathered together in Cosmos concert hall to participate in ACM ICPC 2014. As you remember this year 122 teams participate in ACM ICPC, 7 teams from Africa and the Middle East, 42 — from Asia, 33 — from Europe, 17 — from Latin America, 21 — from North America and 2 — from Oceania.
At registration everybody received participant's pack traditionally including a rucksack, team-identifying T-shirt, the city guide and souvenirs. Moreover, for the first time in ACM ICPC history every participant received a sim-card allowing communication within the network and receiving international calls free of charge. All items and talismans that teams want to have on their places during the Finals on the 25th of June, were left at registration desk.
Chicago University team registered first. Borya Sotomayor, the coach, notes that the trip from Chicago to Ekaterinburg with changes in New York and Moscow was surprisingly smooth:
Our trip from house to hotel took 25 hours. All the flights were on-time, we passed passport control in Moscow very fast. Our University participated in the contest last six years, and we will try to do our best to take on properly. We trained a lot last month, but it always seems that it is not enough.
Yulia Pyankova, head of volunteers, says that meeting and check-in of other participants went smoothly. Nobody lost his way or baggage and all the flights and trains arrived on time.
Teams that had come earlier had just enough time to rest after the flight, know the city, post their photos, share their impressions in social media. Many look tired. Some — because they have come today, others — because they keep practicing. The team of Universidad de Buenos Aires that have arrived yesterday have been practicing since the morning, solving the last year contest problems. The coach Agustin Santiago Gutierrezis satisfied with his team, but he complained about wi-fi connection at the hotel. Not all of submits were send in time.
As Konstantin Bugrov, the vice-director of the Finals in Ekaterinburg, said, everything goes according to the plan:
Thanks to combined team of the Championship, partners of the City Administration and the Government of Sverdlovsk Region the venue is very well organized! Especially thank the volunteers — they do their best.Tomorrow the teams will get together again at the Opening ceremony in the main hall of Cosmos. On June, 24th and 25th they will move to DIVS for the Rehearsal and the Finals. Then we'll see which venue is better — Cosmos or DIVS!
Have a question?
Call us
+7 965-542-00-00