People from all over the World will be able to follow the ACM ICPC 2014
10
Jun
2014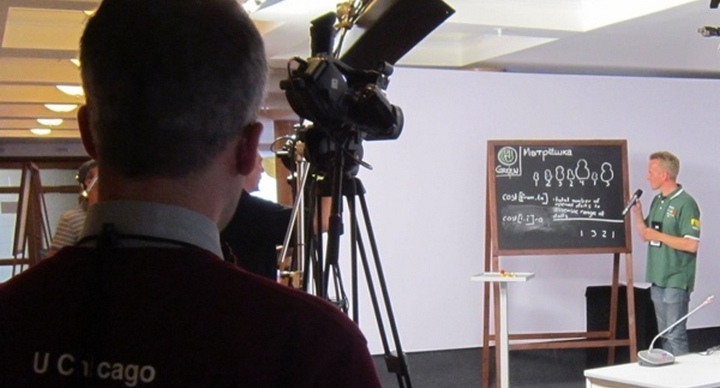 On the day of the Finals thousands of people will see a live broadcast of the competition with two simultaneous sound tracks in English and in Russian. The broadcast that will be available on the local web-site is arranged by SKB Kontur, a host partner of the Ural Federal University.
Broadcast in the competition area first of all requires serious technical preparation. 15 cameras and a "flying" camera for panoramic shot at the height of 300 meters will be used for shooting. Additionally there will be a web-camera installed next to each team. A special team of watcher volunteers will monitor all 122 cameras not to miss interesting and important moments of the competition.
Total length of cable routes will be over 10 kilometers, 88-zoom long-focus lenses allow seeing the smallest details and the volume of recorded information will be over 5 terabytes.
Another important aim of the host partner is to offer over 5 hours of interesting live broadcast. There will be heads of regional branches, coaches of winners, organizers and inspirers of portals for ACM trainings and contests from different countries. The audience will also see the people that made the event possible, these are representatives of steering committee, the host party and the host partner, winners of previous championships, volunteers and many others.
Creative and technical personnel of the broadcast will be represented by over 50 people in total, including 15 operators, 10 engineers, 3 replay directors, a sound engineer, a production director and last but not least chief director.
A team of analysts will follow up the course of the competition and provide online reports on solved tasks, alternate solutions and strategies of teams. On the air guests of the studio will solve the same tasks as the participants on site. Guests at the studio and in a special standup area will tell about the Championship in a more informal way.
Follow the broadcast on June 25 on http://www.icpc2014.ru/en/competition/video.
Have a question?
Call us
+7 965-542-00-00