Qualification of volunteers is accomplished
30
Apr
2014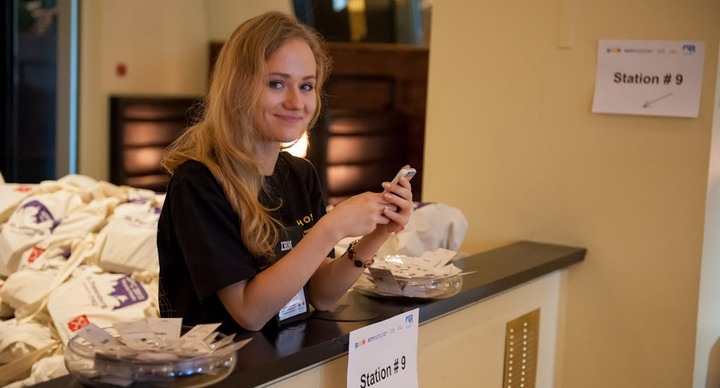 Less than 2 months are left before the World Programming Championship! At the end of April one of the most important preparation stages that is qualification of volunteers was accomplished. 
Over 500 people showed their keen interest to participate in organization of the Championship. Every Saturday in March and in the first week of April there were interviews with candidates among them were students from different institutes of UrFU (and even graduates of IMKN from the USA!), from other universities of Ekaterinburg as well as students from Nizhniy Tagil, Perm. Five people who have experience from the last year's event will come from Saint-Petersburg. 
Key criteria of qualification were participation motivation, communication skills, knowledge of English language. Yulia Pyankova, one of volunteer coordinators, says: 
"It's nice to see students' interest in the event, their desire to learn something new, create hospitable atmosphere in Ekaterinburg. Today it is planned to attract more than 200 volunteers".
It seems to be a huge amount, but taking into consideration the number of guests (over 1000) and tight schedule of all events, this is the best solution. Even now organizers promise ICPC volunteers a highly charged work schedule.  
All volunteers are divided into 4 functional groups in accordance with their missions. First people that participants and guests will see are transfer men. Their mission is to welcome guests at Koltsovo airport and at the railway station, answer their questions, if any, and see them to hotels. By the way this part of work can appear to be not that easy. Lidia Perovskaya, visas and hotels coordinator of the World Championship 2013 in Saint-Petersburg, recalls last year's events:
"Meeting guests and participants at the airport presented many problems. What to do if instead of three people as expected the delegation includes fifteen? Where to find a passenger of Moscow-Saint-Petersburg flight that landed forty minutes ago? How to take thirty passengers from the midnight flight that had been two hours late to five different hotels? How should buses go from the airport to the hotels if Nevskiy prospect is closed? And the most difficult thing: how can volunteers manage to get home before the drawbridge if the shift stretched on late? I don't know how transportation services find answers to these questions, but I know for sure that volunteers did their best so that their hospitability and smile defused all problems of the flight".
After arrival participants and guests of the Championship will fall into hands of the next group of volunteers that will stay in the hotels all the time and answer all questions of the guests. Third group volunteers will accompany participants of the Championship from the hotels to ICPC Zone and organize navigation in DIVS, Kosmos and between them. Volunteers will also help with a multi-stage registration procedure, Opening and Closing Ceremonies, catering.
It is worth mentioning the last but not least group of assistants. Technician volunteers (mainly students of IMKN UrFU) will organize delivery, assembly and mounting of the equipment at the site. Due to this very group at the World Programming Championship it will be possible to program: they will help to arrange a network, tables and computers. 
However volunteers can participate in more than one group. They will have trainings and briefings.  Matvey Kazakov, Host Director of Operations and an experienced participant of ACM movement in Russia, gave the following directions to volunteers in Ekaterinburg: 
"The World Championship Finals is one of the brightest impressions that will stay with you for a long time. This is a special event for everyone and your role in it is to create a special atmosphere for each participant. You are hosts of the event and as any good host you have to meet guests to a high standard. Remember that each participant is a winner who has already travelled a challenging way to get to the finals. The most important thing — get new experience and enjoy the process, support you university, make new friends and tell your old friends about unforgettable and crazy week you had in June 2014!"
Yulia Pyankova and Margarita Shadrina, volunteer coordinators, are confident that in June 2014 with the help of interested students participants and guests of the World Programming Championship will experience unforgettable hospitable atmosphere and an enchanting event.
Photo by Victor Zavyalov
«Team registration», Saint-Petersburg, 2013
Have a question?
Call us
+7 965-542-00-00