28
Mar
2014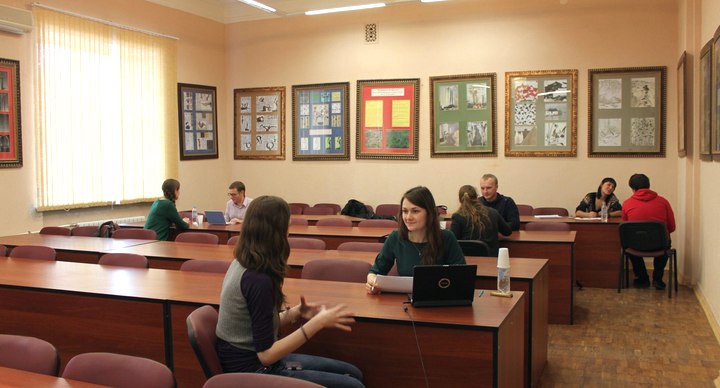 Selection of guides-volunteers for ACM ICPC 2014 has started at Ural Federal University. Two interviews are scheduled on March 29th and April 5th, after which the core of the volunteer team will be selected. Since 1998 volunteers have been making important contribution to every championship's organization, as their initiative, openness and friendliness define to a great extent how smoothly all the events run and how comfortably the participants and the visitors of the competitions feel.
What does the volunteer work involve?
Volunteer participation was first required during Atlanta Final in 1998. Since then, every year volunteer teams have been organized. There is conventional division to the groups of "Hospitality volunteers" and "Technical volunteers" within the teams. 
"Hospitality volunteers" are responsible for making the visitors feel "at home" from the point of their arrival at the airport: they help them get to the hotels, register, make sense of the schedule and accompany participants in their trips. At the competitions site "Hospitality volunteers" register the teams, and in case some issues occur, solve them with the help of ICPC organizations committee or the host university. 
"Technical volunteers" help to deal with the equipment installation on the championship site, check that everything is in working order, and every team has all it requires. Also, this group of volunteers makes sure that during the championship the results of the teams are recorded timely, and interesting episodes are reflected in photos and video during live broadcast.
Looking back at previous Finals, Lisa Donahoo, ACM ICPC Assistant Manager, first of all expresses gratitude to those, who took part in their organization: 
We are very happy to accept everyone who is willing to join our ICPC family, and we do appreciate volunteers contribution, as it is the volunteers who create the impression of the host university and host country. One example can clearly show the importance of their work. Last year, at St.Peterburg's Finals our shirt boxes arrived several days later than expected. We were very concerned we would not be ready to hand everything out at registration due to this delay. A team of ITMO students showed up, worked with us, and were able to do in a few hours what normally would have taken our organizing group several days. 
Who will become volunteers in Ekaterinburg? 
At the moment the organization committee has received 400 applications. Mainly candidates are from Ural Federal University. Of course, among the first are students of Institute of Math and Computer Sciences (IMCS). IMCS always was a kind of home for all student contests on programming. But representatives from other departments are ready to take part in realization of Finals — linguists and international relations experts, students from servicing department and those who study history, radio engineers and physicists. You can meet here students from other universities of Ekaterinburg as well as of other cities — St. Petersburg, hosting the championship in 2013, Chelyabinsk, Perm.
Requirements that the applicants should satisfy remain the same over the years. Margarita Shadrina, who coordinates volunteer work at Ekaterinburg Finals, says that the volunteers are expected to be responsible, capable of team work and sociable, while the "guides" should also have speaking English skills. In accordance with the interviews results and the applicants wishes all volunteers will be divided into 4 groups: 
Transfermen will accompany the participants in all their movements around the city, starting from their arrival at the airport; 
Hotel guides will help solve all issues at the delegations' accommodations sites;
ICPC-zone and competitions organizers will help prepare Palace of Team Sports (DIVS) and Cosmos Concert Hall, register the participants and provide them with the necessary materials, lead opening and closing ceremonies and inform the participants about all changes; 
«Buddies» are required to accompany the participants during the competition or their movements around Ekaterinburg.
All those who will decide to take part in the World championship organization will enjoy the preparation process, exciting Finals from June 22 to 26, friendly atmosphere among volunteers and overall support of the organization committee. And what is the most important — they will get to meet and spend time with the students from all over the world. 
And participants of the ACM ICPC 2014 are promised: 
We will join our efforts to create comfortable atmosphere for you throughout the whole Finals. We hope that the positive impressions from your trip to Ekaterinburg in June of this year will become a valuable part of your experience. Don't be afraid of any issues! - We already know how to solve them.
Those, who wish to take part in the Finals organization, but have not applied yet, can do it before April 4th, sending a letter to coordinators Margarita Shadrina (shadrina@skbkontur.ru), Julia Pyankova (yuly-pyankova@yandex.ru) or visiting the group in VKontakte. 
Have a question?
Call us
+7 965-542-00-00